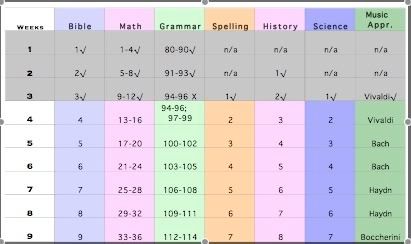 Here is our updated year at a glance based on what we've accomplished so far. Here is the link to the original Year at A Glance. We are behind in grammar, which if we do lessons 94-99 this week we'll be caught up and we are one week behind in science but I just moved science down a week because we have breathing room in that regard.

The music appreciation column has changed from the original Year at a Glance because I set it up wrong in order to reflect our actual lessons. We study one composer and composition for two weeks at a time, this is a better reflection of what we're doing. I'm not going to update the original Year at Glance because when I update it for my use, I save over the original file. Just a little sidenote.
I feel so organized and on top of things this year versus last. Of course last year was our first year homeschooling and I've learned so much in the meantime. I contribute a lot of that learning to the exposure of
homeschoolers
and participating within the online community. I have learned so much from our fellow online
homeschoolers
, from blogs to message boards- and I have a thankful heart for you! Prime example, I wasn't going to do a Year at a Glance, but I saw this on
Jennefer's

blog
and I immediately saw the value in it. I know I've been linking to her a lot lately, but I love others who make me think!
It isn't enough to create a Year at a Glance or long-term goals, you have to update them and use the tools you take time to create. From reading others' journeys I know this is an area that gets neglected over time. Starting the year, everyone is full steam ahead but then 12 weeks into the year, something happens...life gets busy, behavior problems crop up, or something else and all those well-thought out plans go to the wayside.
Last year I struggled to find a system that worked for use. I tried using a homeschooling software product to map out our year and I ended up not liking it at all. The excel file is working fabulously for me so far. I look back on my last year self and I see that I was a mess just trying to figure out how to do what everyone else was doing. I've learned it's not so much what everyone else is doing, it is finding what works for you and your family.
I want to say one other thing before I end this post. I have found a new outlook about reading educational theory, philosophy books etc. like
The Well-Trained Mind, Charlotte Mason, Teaching the Trivium
, and the rest of them.
I
am teaching
my children
. My personality and theirs and what works for us is important. I will glean ideas from the books but overall the way we approach this journey needs to be tailored to
*our*
needs instead of trying to fit us into a
WTM
box. I was trapped in that "we're a
XYZ
homeschooler
" category last year, but this year I'm embracing that we are "
homeschoolers
" and that saying that we use
WTM
or TOG is just a detail but it doesn't really define us. If workbooks fit us best, who cares if it doesn't fit within the educational philosophy of
XYZ
book?
God meets us where we are, granted if we listen, we'll change but he doesn't wait for us to be at a certain level to reach out to us. He's there with you all the time. Allow the journey with homeschooling be more about where you are instead of trying to fit someone
else's
ideals or fitting into the profile of being an
XYZ
homeschooler
.