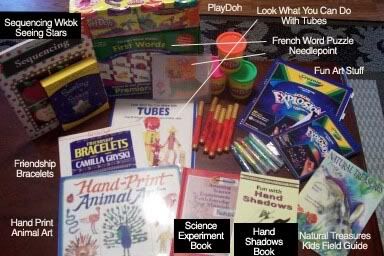 This is my attempt to provide directed fun activities, that may not be the appropriate term but it is to provide activities for self-discovery
(wink)
during a child's free time. I give my children "free" time to play with each other but I didn't have anything else to fall back on when that didn't work. So, here it is, Camille's
"Bored Box"
- a collection of items we already have, ready to be played with!
We forgot to put Camille's
Cat's Cradle
in the picture because she didn't put it back in the box yesterday. We also have
Moon Sand
(I really dislike this stuff) that isn't pictured.
_________________________________
I am sick. My head is stuffed up, my chest hurts and I cannot concentrate. Camille did a little school until
I
begged for mercy. We are having a 24 hour mercy day off. I only went to the post office to get our Amazon order that came in. I am, after all- human. I can't think even to say anything about the items. It will have to wait.