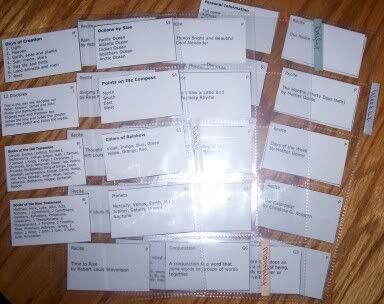 Sorry about the flash reflection. I created memory business cards, laminated so that I can use them again with Danny and not get destroyed. Items include: Bible facts, scriptures, science facts, grammar definitions, and poems.

Daily sheet: there are 10 places to fill but I'm only using the daily for the immediate memory items. The standard for moving into the Weekly section is the item needs to be recited correctly 3x from start to finish.
- grammar definition we are currently studying
- science fact(s) that applies to our current studies
- the most recent poem memorized and the new one to memorize

Weekly sheet: these are items have been memorized but still need reinforcement to keep them memorized. The standard I'm using is if the item can be recited correctly 3x from start to finish then it gets moved into the Monthly section.
- general topics (house rules, time, personal information, etc.)
- Bible facts (prayers)
- poems previously memorized

Monthly sheets: Items to be memorized or previous items that have been memorized based on the standards above.
There are two sections for monthly right now, future items and monthly items. The future items will be recited once a month until they are put in the Daily section for formal memorization. Once items have been deemed a "monthly" memory item, the future and monthly items will be separate.

Scriptures: I have decided to separate these from the rest of the memory items. I know the arguments but I have decided to choose 5 scriptures to truly internalize for 2nd grade instead of memorizing 34 scriptures. The rest of the scriptures will just be read weekly, with the week's scripture being read 3x daily. This will grow incrementally as we progress in our Bible studies.

I placed these in Camille's Daily binder and the tabs allow me to label them Daily, Weekly, Monthly, Future. Any other "system" just proves to be too complicated for us. I needed something to fit what we're already doing but to add a little more structure.

Our current daily memory items include:

• Recite "True Nobility" by Edgar Guest (our new poem)
• Recite "Mr. Nobody" by Anonymous (our last memorized poem)
• Continents by size (science fact)
• Noun definition
• Pronoun definition
• Verb definition

This post was edited since the first time I posted it due to "medicine" head.