We are going to study the U.S. states, learn their capitals, geography and have fun from now (the beginning of 2nd grade) until we're done which I hope is 4th grade. We have everything we need at home to accomplish this, which is a key factor in being able to make it informal.

Pictured: 35 Best Books for Teaching U.S. Regions (will be used more in 3rd/4th grade); Dover Publications' State Bird and Flowers Coloring Book; ABeka's My State Notebook; The Story of America The First 500 Years (poems); Scott Foresman Student Atlas; States Activities Book and Our Fifty States by Miers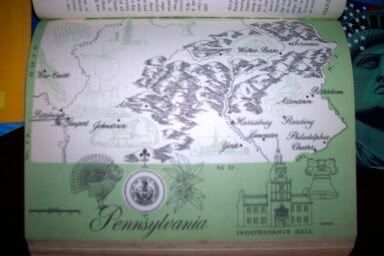 Our Fifty States by Miers is an old book with gorgeous old maps and a narrative stories about each state's history. We will read this (editing where necessary) and then proceed to study about each state using
HoldThatThought.com's US Geography pages.
These are the HoldThatThought US Geography pages, there are six to be completed for each state. It is the most comprehensive US Geography notebooking pages I could find for the best price.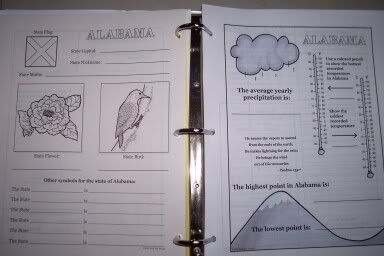 While we learn about each state we will memorize the states capitals, we are also studying states by region. We have games like Great States Junior and others to help make this fun. We will check out books from the library as we'd like to read more, I would particularly like to read the folktales from each state as we study them.
The goal is to be familiar with our own country when we approach our U.S. studies in our world history studies.
I collected all of these books through Goodwill, library sales and BookMooch. I think the total amount of money invested is between $8-$12.