Today we read about the Hagia Sophia and looked at pictures online. Camille has chosen to attempt to duplicate this mosaic. The circle with the cross. Although I think it's wonderful that she wants to replicate something from the Hagia Sophia, why couldn't she choose a fish? This will be interesting and I hope fun.


http://mosaicartsource.wordpress.com/tag/mosaic/mosaic-images/birds-fish/
We'll also explore the world of mosaics and look at other mosaics from the artist linked above. You do know who has to do the template outline of the mosaic above, right? That would be me. I wish I would have thought about this a little more and gotten a book on making mosaics.
Dreamer from the Village: The Story of Marc Chagall

by Michelle Markel, Emily Lisker

St. Valentine

by Robert Sabuda (*I have this one! Not about mosaics but illustrated with)

Daily Life in Ancient and Modern Istanbul (Cities Through Time)

by Robert Bator and Chris Rothero

Piece by Piece!: Mosaics of the Ancient World (Buried Worlds)

by Michael Avi-Yonah
I guess
St. Valentine
will have to do unless the library gets the books I request two weeks ago in from interlibrary loan. Sigh. Thank goodness I have a few art books on hand with wonderful pictures.
YOU KNOW YOU'RE A HOMESCHOOLER WHEN... you pray to run out of glue or foam blocks!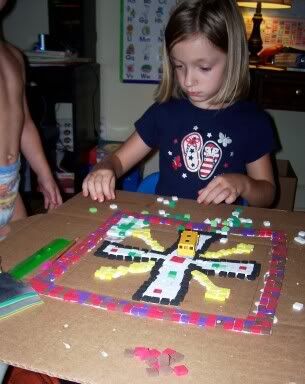 Danny woke up from his nap and thought Camille was building him a road! She told him,
"No, don't drive your bus all over the cross, Christ died on that cross for our sins and so we can live forever with Him in heaven!!!!"
I think she's listening in our Bible lessons! Lol. Wow.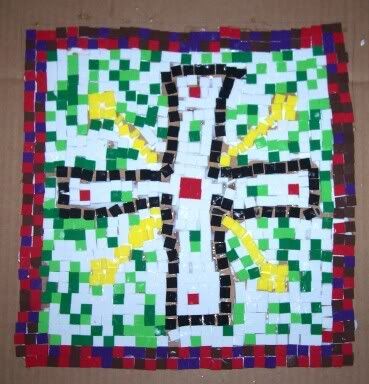 The final product. No, I'm not telling you that I was left to finish it about 20 minutes from the time the first picture was taken, or how many vehicles of Danny's has glue on their wheels. Did our lessons go as scheduled? No, and who really cares? This was a lot of fun.