I know you may think I'm super-duper organized and I have it all together. Well, I've struggled for the last year while homeschooling. I didn't have the foresight or the discipline to "schedule" our lives, I felt that if I did that I would be choking any joy out of our lives or I would feel like a slave to the schedule. Come to find out, I like being scheduled and disciplined! I like getting the work done and feeling satisfied instead of guilty and depressed because, "I should have, I could have.." and procrastination!

I've put together a cleaning schedule in a post prior and this week has been great. Our house is picked up, the kids are learning responsibility, dh is even pitching in more! I think part of our problem was not knowing what to do and when, and I was thinking, "don't they know to do this?!?" Lol.

Okay, meal planning. First, let me say something about websites and programs out there- you do not need them. They are selling a product and they want you to buy it, or it's a free website- get what you can out of it and leave the rest! Don't bog yourself down if you decide to take this project on. As mothers, we already do a lot of the leg work that the free websites want you to rethink. We have meals we make, groceries we shop for, the only questions is how efficiently are we doing this?

I made a list of all the (dinner) meals I currently make, organized by what meat is used in the meal because meat is the most expensive ingredient and an area where money is wasted from month to month.

Then we decided how many dinners we want to eat out each month, which for us is 3-4. Next, I figured out how many nights dh might be home alone for dinner, which is about 3 nights a month and how many nights I would like to try a new recipe, which is two nights. I setup a spreadsheet for 7 days across and 5 weeks down.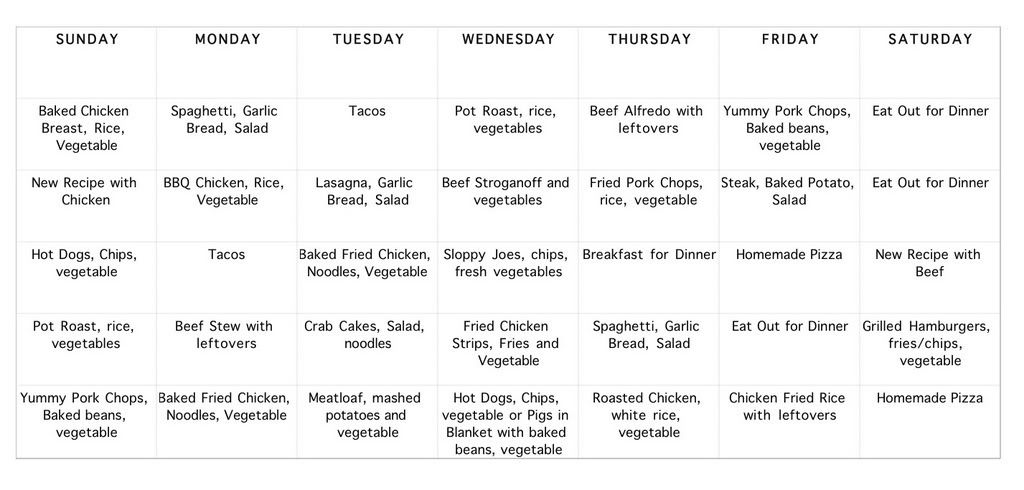 Then I put the meals on the spreadsheet trying keep the meats different, dh really dislikes having chicken back-to-back. I left vegetables to be determined on the night because it will depend on what is available in our fridge and what produce we buy for the week. We are once a month grocery shoppers because we get paid once a month but produce, milk and eggs are what we buy from our local overpriced grocery store. The produce selection isn't great either, I buy the bulk of our produce at the beginning of the month.

From the meal plan, which is only dinner because we have limited options (predictable options) for breakfast and dinner which don't require any planning, I wrote out a grocery list. I took this very basic grocery list and went around my house and added to it. Once I had everything that we purchase for our house, I typed it into a spreadsheet too. This is where I get annoying.

I listed items under headings. Household: Bath Items, Laundry Items, General Items, A/C Filters (put their sizes), Batteries (put type), Pet Items, Storage bags (by type), OTC Meds, Outside Items. Meats is another major heading. Dairy, Other Grocery: Baking Items, Spices, Fruit/Vegetables, Frozen, and finally Breads. I put the list in a useable way for when I am actually walking through our grocery store, grouping like items together. Sickening, huh?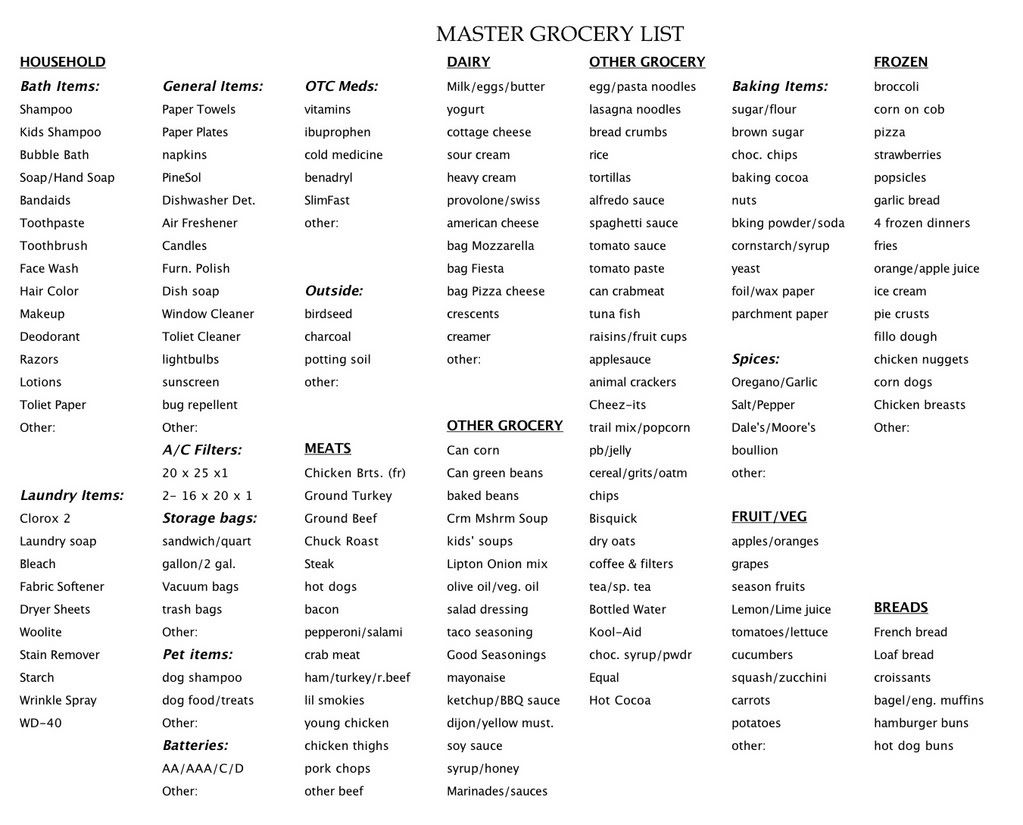 The idea is to take stock of what I need each month. I will walk through the house, crossing out items we don't need and put the quantity of what we do need. From this, I will create a grocery list and include any extra ingredients I need for trying those 2 new recipes each month.

The goal is to save time and money and teach my children about home management in the process. We won't buy ketchup because will know that we have 2 bottles in the pantry and we'll buy exactly what we need, nothing more. On the meal plan you may see I have only 3 nights designated for Eating Out, that's because there is one night that we may want to. We're not going to choke ourselves with this, if we have functions and what-not that provide dinner, then we'll have a dinner for the next month.

I have spent no money putting this together, I don't have a "program" that I'm following, this is 100% prayer and just getting it together. I hope sharing this helps in some way, I know it would have encouraged me to read it at another's blog.

Blessings
Jessica