Psst. Let me tell you a secret, the t-shirt with the house on it? There's 3 of them that will be delivered by Friday! On Monday, I'm going to give Camille her shirt when I tell her to get dressed. I can't wait! She thinks we aren't able to get the shirts yet, so it'll be a wonderful surprise for her.


I have her weekly folder set up, all ready to go. I have my weekly schedule ready. I'm ready!!!
Our
Phase into 2nd grade plan
is ready and being implemented. Operation 2nd Grade is a GO!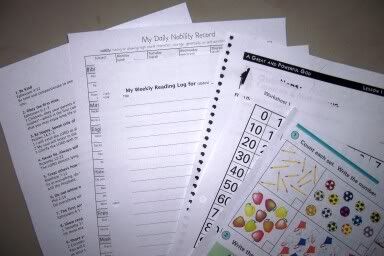 Monday's folder contents: House Rules/Scriptures, Nobility Record (update: laminated), Reading Log, Bible work, Math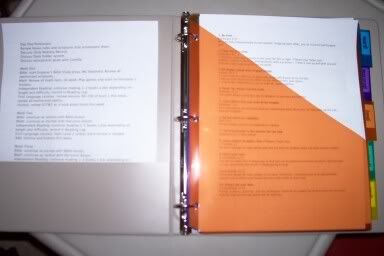 lundi, mardi, mercredi, jeudi, vendredi

She'll have no choice but to learn the french words of the week!
Update: I added an Everyday folder to hold our Weather Journal and Reading Log.
What I have to do each week to be ready:
c

Create/print weekly lesson plan (excel)


c

Print Nobility Record for the week

I laminated it!




c

Copy 5 lessons from Jesus, My Shepherd


c

Pull Weekly Reading Log from Language Arts binder


c

Fill daily folders


c

Pre-read history and supplement books


c

Find poetry to fit our studies


c

Prepare materials for projects


c

Pray, because no matter how well prepared I am, if God isn't involved, it's just not worth doing.

I'm ready, I'm ready! Exhale!
UPDATE 2/2008: This system has worked wonderfully for us, eliminating huge notebooks on a daily basis has kept both Camille and I on task and focused. I am considering making Quarterly bound notebooks but my only concern is that if it is bound already, we won't be able to add any rabbit trails.