What we're using:
The
Usborne
Internet-Linked Encylopedia of Our World, World and Space by
Childcraft
, My First Science Encyclopedia (Kingfisher), Hands-On Earth Science (Carson
Dellarosa
) and The Geography Book.
Our Earth Science and Geography lessons (Astronomy too) are

downloadable

for free on the right sidebar.
Today, we did two days of science due to behavior problems this week. It was great!
Thank goodness the experiments weren't any more involved.
Illustrating how the earth has day and night on opposite sides.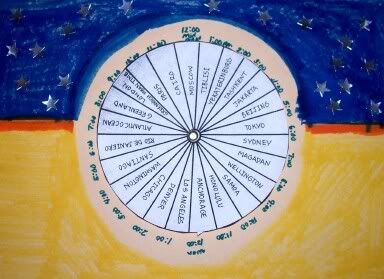 In geography, we made a world clock. We even took the project further than
The Geography Book
said and divided the times by day and night, the stars were Camille's idea. The center circle is on a brad and can spin.
We watched Our World on United Streaming which I highly recommend and more of
To Space and Back
by Sally Ride. Tomorrow will be the regular weekly report, we have decided to take pictures of our projects so I figured I would share them, especially after seeing how well they turned out!
By the way, our 'sun' is an energy-saving lightbulb that is supposed to last 5 years.