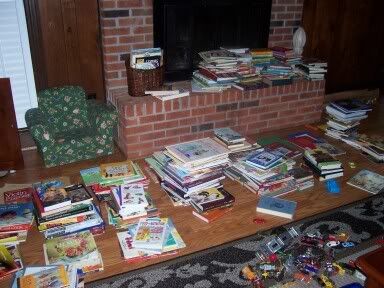 Our ongoing book purge, we pulled the books and organized them by subject. Our LibraryThing online library needs some TLC, there are books cataloged that we no longer have and some we have that are not listed. I'm also purging books I don't feel we need which will be listed at BookMooch.com for the taking. It's a project that doesn't require much thought, which I needed this week.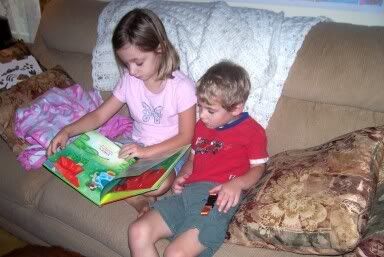 I have taken the week off, which included reading to the kids- Camille has been reading to Danny all week. I usually read anywhere from an hour to two hours daily to the kids, it's nice to take a break. This is our first week off since starting 2nd grade and technically we're in our 9th week.

DH is still at his parents' and MIL is about the same- she's home from hospice though. We miss DH. It's going to be wierd going to church without him there. Today (Sat.) we're going to a museum to look at exhibits about the water cycle, which will get us out of the house. We did have a playdate yesterday which was fun. We will start our Week 9 on Monday and Camille is ready to get back to our lessons.

Our church has started up youth again and Camille's age group is memorizing the books of the Bible as well as songs to sing for the church. Camille is excited and already has the first 10 books memorized.

It's been an emotional week here and I'm not one to talk about it much. Any and all prayers have been greatly appreciated.