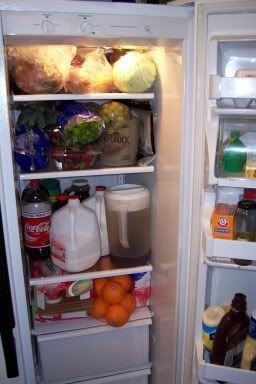 We're attempting to go a whole foods route with our menu (mostly from The French Chef Cookbook by Julia Child and French Women Don't Get Fat by Mireille Guiliano), we have vegetables and fruits coming out of our ears because dummy me bought a whole month's worth instead of realizing that I *should* buy each week.


Fresh vegetables:
leeks (which I'm making soup today)
artichokes,
rutabaga
onions,
garlic,
various greens for salad
celery,
green peppers,
carrots,
yellow squash,
zucchini
fresh herbs- parsley, rosemary and thyme.
Geesh, I think I left something out- oh yeah, broccoli, cabbage and I still have to find fresh eggplant.

Fresh Fruits:
Honeydew,
cantaloupe,
pineapple, (made Pineapple Sherbert today)
plums,
peaches,
apples,
pears,
red/white grapes,
oranges,
bananas,
and lemons.
I think that is it for the fruits, I might have forgotten something there too.

Our refrigerator is slam packed full- what can I blanch and store in the freezer until I need it? I know the leeks and artichoke needs to be cooked this week.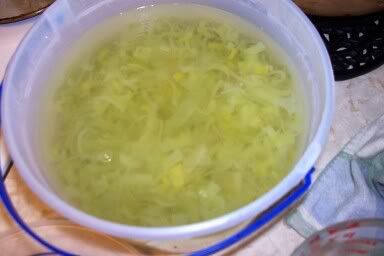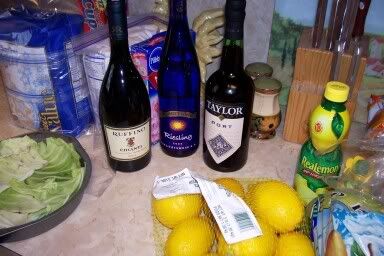 Our menu for today is
Breakfast:
Yogurt, grapes, slice of French bread w/ butter. Rocquefort cheese
does not
taste good btw.
Lunch
: Ham & cheese sandwiches with greens, fresh pineapple chunks.
Dinner
: Leek & Potato Soup (pictured above), salad with fresh greens, and apple tart.
~~~
FOLLOW UP: The Leek & Potato soup will not have an encore performance in our household, the salad, french bread and salad were a hit. DH kept asking where the meat was. I was the only one who ate most of what was in our soup bowls. This is fine, we'll figure out what we like and move on from there.
~~~
I felt so healthy yesterday as I was grocery shopping bypassing ALL prepackaged and prepared foods and the cashiers were amazed as well asking questions. One thing I DO know is that I will NOT buy everything at once again and I HAVE TO plan a menu for the month and shop for the vegetables/fruits each week.
Help me salvage from my mistake!