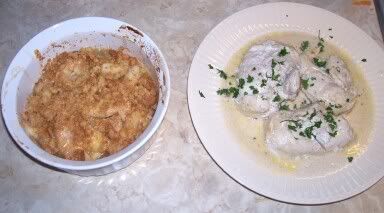 First, anything written or said in French sounds impressive for some reason but these recipes are quite simple!
On the right is
Suprêmes de Volaille a Blanc
(Chicken breasts poached in butter with wine and cream sauce) and on the left is
Poires Au Gratin
(Pears baked with wine and macaroons). We also had white whole grain rice and
Carottes Etuvees au Beurre
(Carrots braised in butter). The kids didn't have the pears but had
Pineapple Sherbert
.

CLICK ON THE COLORED TEXT FOR THE RECIPES! : )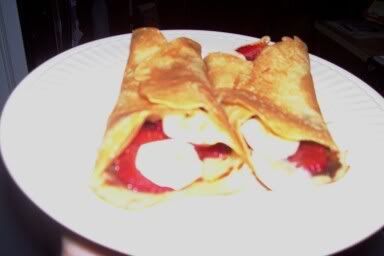 This is
Vanilla Crepes
with
Nutella
, strawberries and bananas. I've never had breakfast crepes before and this was delicious! Unbelievably simple and our permanent replacement for pancakes and possibly even waffles! Nutella is a
spread made from cocoa, hazelnuts, and skim
milk and is apparently very popular throughout the world and was on the peanut butter shelf at the grocery store. Yummy!

Dh asked what we're having tonight and I told him Crab Cakes, he was disappointed! "I've had crab cakes, can't you make something else French?" He's eating this UP, literally! All the foods with the exception of a select few (like the Nutella above) is made from scratch, scroll down to look at my fridge! lol.