This week has been hard, mostly because I've been sick with an upper respiratory infection which has left me feeling very weak. I kept going though, dropping things I didn't have energy for. We were much more productive Monday and Tuesday than the rest of the week. I pray the kids don't get sick.

Explorer's Bible Study, Disovery-Genesis: I can't decide if I want Camille to do this independently or not- I do because I feel she can do the work and I don't because I want to discuss it with her. This week the lessons were about Genesis chapter 2.

Horizons Math- No problems, Camille completed lessons 10-15 this week which I just noticed on my Year at a Glance that I messed up. I scheduled on the Year at a Glance 4 days of math when we're doing 5 days currently. I'll have to make a decision about that, whether to keep math on Fridays or replace it with a game. I'll have to see where math will end if we keep on the current path we're on and I don't have the frame of mind to do right now.

Prima Latina- Camille has made flashcards of the vocabulary words and I hate to admit that I did not watch Lesson 4 with her this week or work with her much due to being ill. She did complete her exercises and I feel much about continuing about Latin instead of French formally.

Primary Language Lessons & Explode the Code
In PLL, Camille has more writing than she has had in the past so I decided to break it up within her week and do PLL on Mondays and Wednesdays, giving her a break with ETC on Tuesdays and Thursdays. She is doing much better in ETC with the broken compound words.

Poetry- She is still working on Merry Sunshine, I consider it a difficult poem because of the flow.


Merry Sunshine
by Anonymous

Good-morning, Merry Sunshine,
How did you wake so soon?
You've scared the little stars away,
And shined away the moon.

I saw you go to sleep last night
Before I ceased my playing;
How did you get way over there?
And where have you been staying?

I never go to sleep, dear child,
I just go round to see
My little children of the east
Who rise and wait for me.

I waken all the birds and bees
And flowers on my way,
And now come back to see
the child who stayed out late to play.
I'm stretching her as far as the poems she's memorizing, next up is
Foreign Lands
by Robert Louis Stevenson. She's doing extremely well with her poetry memorization and when we review (before each new poem) all the poems she's worked on in the past I'm taken by how much has been accomplished so easily.
Tapestry of Grace, Year 3, Week 3
I'm so grateful this week was light on reading, it doesn't seem like it because of the multiple books but they were short. I ended our reading of
Of Courage Undaunted
even though Sacajawea was about to join Lewis & Clark within the story, I opted for National Geographic's video-
Lewis & Clark: Our Journey West
instead while I rested my throat. Yes, I am hard on myself and it won't change.
Independently, Camille read
Eli Whitney and the Cotton Gin
which a book illustrated in a comic book style. I do not like these style of books at all but didn't see the harm in having her read it. As a child, I read comic books but they were not a favorite of mine but I also grew up with Wonder Woman, Superman, the Incredible Hulk and other comic book heroes as cartoons on television.
I read aloud our readings from
America in the Time of Lewis & Clark
,
Smoke Stacks and Spinning Jenny
and for our
Afternoon Tea
this week, I read
The Bremen Town Musician
s as well as read the picture book version for Danny at bedtime.
For this week's history project, Camille worked on a Lewis & Clark map.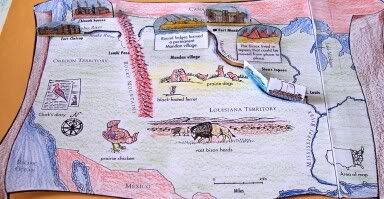 This Lewis & Clark map is from Interactive 3-D Maps: American History by Donald Silver and Patricia Wynne, the book covers North American nomads to the 1960's.



Life Science: Head to Toe Science by Jim Wiese
This week we continued our study of the five senses, we read
The Body Detective
s by Gelman and
The Magic School Bus Explores the Five Senses
by J. Cole. We learned so much more than we did in our first study of the five senses back in first grade. Here are a few of the projects Camille did this week.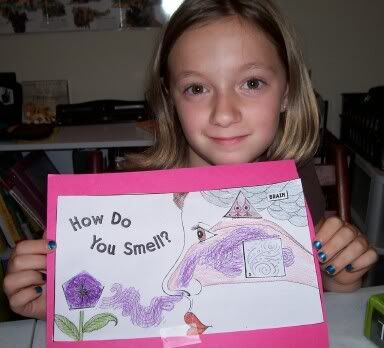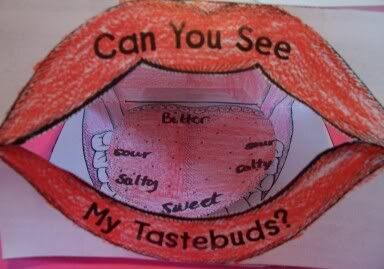 I didn't take pictures of the touch project she worked on. Here's a picture of holding a grasshopper from last weekend, Sunday's nature walk after church. The blue nailpolish is not my idea or my work, she came home with it after spending time with her dad who takes her for manicures at times.
Here's her nature journal entry for this week, she measured the largest caterpillar.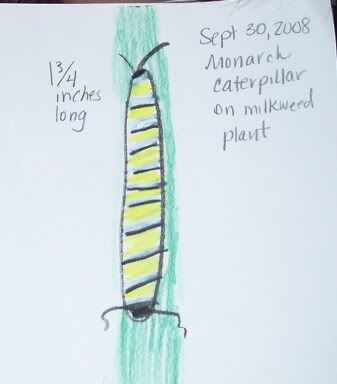 We did not do Drawing With Children, Needlepoint or our Composer Biography this week. We're not going on a field trip today either. I really dislike being sick but I'm doing as much as I can without staying in bed all day.
Mom's School
- I feel so ashamed to admit that I have done nothing this week for my own studies other than read
Twlight
by Stephanie Meyer in less than 24 hours. I have my other books sitting her waiting but now that I'm done with
Twilight
, I want the 2nd book in the series. Sigh. I'm blaming it on being sick.
I changed our daily routine which I posted about, two posts ago? We'll start the new routine on Monday.