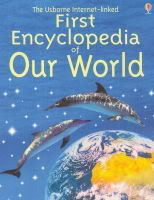 I'm around, I'm just busy creating earth science lessons for 2nd grade. Here's what I'm using.
The Usborne Internet-linked First Encyclopedia of Our World by F. Brooks, World and Space volume 4 of the Childcraft How and Why Library, The Usborne Internet-linked First Encyclopedia of Space by F. Brooks, Caron-Dellosa Publishing's Hands-On Earth Science by Phil Parratore, The Geography Book by Caroline Arnold and A Child's Introduction to the Night Sky by Michael Driscoll. I have other books as supplements but these are my main books that I couldn't do these lessons without. I also have My Calendar Book to be used as a year-long nature study about the weather which is published by Christian Light Publications; I bought it at RainbowResource.com for $2.95.

I'm also utilizing United Streaming this year. Just to give you an idea of what I'm doing, here's the first

lesson.

LESSON 1: OUR PLANET

4 First Encyclopedia of Our World: Read pages 4-5
4 My First Science Encyclopedia p. 7, Air and Atmosphere; p.21, Earth
4 World and Space (Childcraft): p.131 What's Inside the Earth
4 Hands-On Earth Science: Cupcake Geology, p.14; Current Affairs, p.15
4 Science words: Earth, atmosphere, planet, mantle, inner core, outer core, crust

The Geography Book
4
Read p41-45, The Land, The Continents
4
Activity:
The Global Puzzle or Map Puzzle pg. 45
Books to Read
4
The Magic School Bus Inside the Earth by Joanna Cole*
4
What Your First Grader Needs to Know p.307-*
4
Air Is All Around You*
4
Journey to the Center of the Earth by Harris, Hincks, Gave
4
Planet Earth/Inside Out by Gail Gibbons
4
The Seven Continents (Rookie Read-About Geography) by Wil Mara
4
The Best Book of Fossils, Rocks, and Minerals by Chris Pellant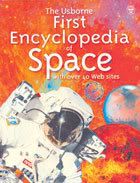 4
Rocks in His Head by Carol Otis Hurst (fiction)
4
The Pebble in my Pocket: A history of Our Earth by Meredith Hooper
4
I Can Be A Geologist by Paul Sipiera
Interactive Activities

Go to www.usborne-quicklinks.com
4
Take a Peek Inside Planet Earth
4
Try an Earth words quiz
United Steaming Videos
4
Junior Geologist: Our Planet Earth
4
This is Our World (15:00)
4
Air: A First Look (15:36)
4
Digging Through Earth (10:00)
The asterisk (*) notates books we have in our home library. I also plan to add
Professor Noggins's Earth Science card game
when I finish and possibly a few poems about the subject of each lesson. I've already got books stacked up in front of me so it will be easier to add them in once the bulk of the work is done. I've finished Lessons 1-10 out of 18 for earth science, and I plan on creating 15-17 lessons for space. It'll be finished soon, my goal is the end of this month. BUT, I have other commitments to
attend to including some product reviews to finalize. (Tick, tick, tick goes the clock. Lol.)
Okay...the books extend further than the text so I guess I'll tell you that you can purchase the World and Space book at Amazon used very cheaply. Buying the
Childcraft How and Why Library
is one of the best investments I've made since we decided to homeschool. I picked them up at antique stores and thrift stores for $1.00-$2.00 each.
Yes, I will make all the lessons available. I just wanted to share HOW I do this because it's pretty simple once you collect the spines you want to use.