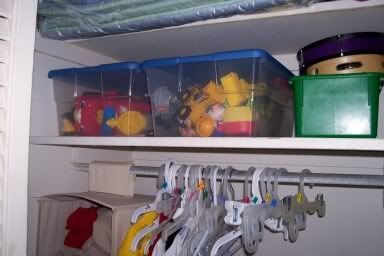 I've tried a few different things with my two-year son to stop some of the chaos he causes around the house daily. I tried one of these open toy bin deals but they were dumped out completely daily, fun - fun - fun. So I sorted all his toys and sent a bunch of them to Goodwill. Then I divided all his toys into the six bins, with the plan for Danny to have one each day with a different assortment of toys in them, similar to preschool bags but on a larger scale.

This would have worked if I had been more consistent but dh had said he didn't want me to keep any of Danny's toys away from him and Danny realized this soon. If his fire truck was in the blue bin, he wanted it even though it was the yellow bin day. After weeks of this I became frustrated and gave him all his toys again. Do you know what happens when a two-year old has free reign of ALL his toys? They are all over the house! Daily! The puppy's arrival meant things had to be changed, because the puppy doesn't understand about not chewing Danny's toys yet.


I went and bought bigger bins, with lids and decided to put each type of toy in each bin instead of trying to divide them equally among the days/number of bins. All of his cars/trucks are in one, all of the emergency vehicles are in another, music instruments, construction & farm vehicles, plastic dinosaurs & other plastic toys for pretend play, and one for miscellaneous toys. This is working for us because Danny typically wants certain toys, usually his cars/trucks bin and I can work with him to clean those up before he can play with another toy. Splitting the toys up randomly among the bins was not a good idea for such a head-strong little boy. This last picture is the final result of organizing his closet, the picture top-left is actually a closeup of the left side, the green bin is from one of those toy bin sorters, too small to hold his toys.

I also started the kids on having a "pick up box", when I say "it's tidy time" they are to go around the house and put all their toys, shoes, etc. into the pick up box and take it to their room. I'm still working this out but they think it's a race right now. I really want them to put their toys away once they put them in their rooms but we've got to work on that. Oh, yes I put Danny's dresser (actually the parsonage's dresser) into the closet to free up more floor space in his room. It also saves me the stress of fearing the dresser will fall on him.