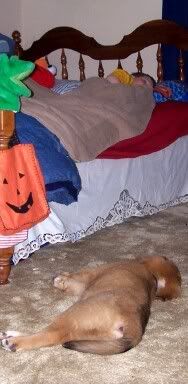 Danny reading some books, making car and truck noises at 2 years and 9 months old.
Chase going into Danny's room while he's napping just to be beside his buddy.
This dog is completely devoted to him, meanwhile my dog is laying beside me as I type. Next thing I know, Camille will want a dog of her own! Yikes.
Tonight, Chase was at the food dish and Danny noticed it was empty. It is Camille's job to fill the food bowl but Danny decided HE wanted to do it. He grabbed the dish and said, "Doggie food, mine- outside." When dh consented Danny went outside, lifted the lid of the container that we keep the dog food in, scooped out the food multiple times, placed the lid back on (snapped it shut) and then opened the door and brought the food dish in. He put it down and called Chase over. DH and I had tears welling in our eyes, amazed at our little man. I guess Chase and Danny have decided to take care of each other.
Precious moments.