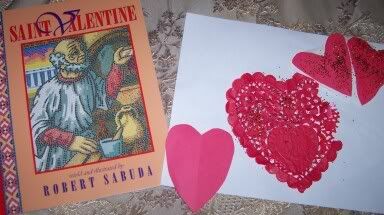 Yesterday was quite the day! I rode the emotional rollercoaster from thinking Chase had gotten out of our yard- we went searching for him for 1.5 hours on foot only to come home and find him underneath the house! Then our lessons were interrupted by Danny constantly wanting something or having a temper tantrum because something wasn't going his way. I realized that today was Valentine's Day and that we had done nothing for it, no cards, no cupcakes nothing. The insecurity sank in, the frustration got to me. I do miss the excitement Camille had coming home from school, "Mom look what I made you!" or the "Guess what we did in school today!" Please realize I don't want my children to go to public school, I just miss this element.

Last night the insecurities, the newbie homeschooling feeling, worrying and frustrating moments got to me. I prayed for peace and thanksgiving and shared my angst with some fellow homeschoolers. This morning we did our Bible lesson at 6:30 am and then Danny set off to play with his cars and Camille went to do an art project in the learning room. Next thing I know, Camille is coming to me saying, "Guess what Mom, I made this for you!" with little red construction paper hearts. Oh the joy and happiness! I hugged her and told her that it's the best Valentine I've ever received. God is SO GOOD!

I actually have a book about Saint Valentine, so we read that and we watched the United Streaming offerings about Valentine's Day. No cupcakes or store bought Valentines to give out but I feel better having done something!


I'll post a picture later when she's done creating!
Happy Valentine's Day!