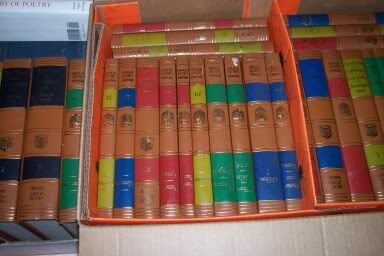 I'm still shaking. I took Camille to her dad today (they're going to NYC for the weekend, lucky her) and I had the rest of the day to myself. Danny stayed home with Daddy. I. had. the. rest. of. the. day. to. myself. Me, myself and I. Do you know how RARE that is? :)

Okay, so I went to my usual haunts Goodwill, Salvation Army and then to another town's Goodwill, antique stores. When I took a chance and combed the antique stores I hit paydirt.

On the shelf were encyclopedias. Not just any encyclopedias. I started shaking when I saw them and I'm shaking just typing this! The. Great. Books. of. the. Western. Civilization. Encyclopedia. Set. NO JOKE. The ones listed on Amazon brand new for $995.00, I bought today like-new with only ONE previous owner for $3 per book (my negotiated price). I paid $147.00 for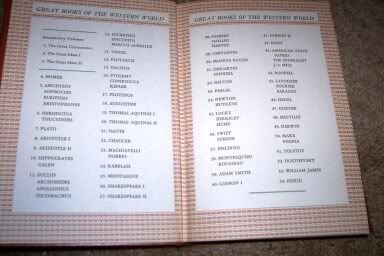 the entire set. Do you hate me? Oh, I would! LOL. I'm on cloud 209!

Now when I saw them, I played it cool. I went to the shop owner and asked him if he would accept a credit card number and expiration date if I called home and got it. My credit card was in our file cabinet to prevent useless spending and to pay the card off. I told my husband about the books and he got the card. He didn't quite understand why I was doing what I was doing but God Bless him for not arguing! LOL.

Okay, I had the credit card number, do you think I stopped at the Great Books? I had the credit card number...hello! No, I also got Captain's Courageous by Rudyard Kipling, Adventures of Huckleberry Finn by Mark Twain, Bambi by Felix Salten, Toby Tyler by James Otis, Heidi by Johanna Spyri, Five Little Peppers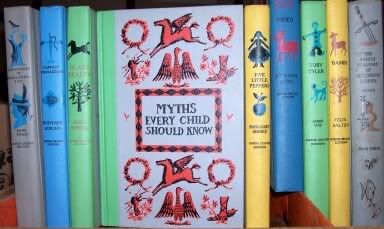 by Margaret Sidney, Myths Every Child Should Know by Hamilton, Wright, Mabie and Gulliver's Travels by Jonathan Swift of the Junior Deluxe Editions. These too are in perfect condition, I would even say brand new condition. Also pictures is The Family Treasury of Children's Stories by Pauline Evans.

From the same antique store I also got, a hardback copy of Luther's Small Catechism, Neighbors on the Hill of The Alice and Jerry Books (a reader book like Dick and Jane), A Treasury of Great Poems English and American with the Lives of the Poets selected and integrated by Lous Untermeyer, and A New Treasury of Poetry Compiled by Neil Philip. Very, very nice. My children do not even understand the degree of how GREAT these all are, but I do and I am ever so thankful! Camille does know the difference between old books and new books, and being my daughter, she prefers the old books. I found out today that the Basal Readers we have (about 12 of them) are worth between $20-$40 each! (I paid between $1.00-$5.00 per book) At least that's what one antique dealer told me when I scoffed at the price of $35.00 for an old Dick and Jane that was falling apart.

If you're not sick of me yet, I'll also tell you I bought about 20 books at Salvation Army for $2.44. Including a hardback Freddy The Pilot by Walter R. Brooks. Oh, and I picked up the Handbook of Christian Apologetics by Peter Kreeft and Ronald Tacelli for $9.00 instead of the $27.00 list price, brand new condition.

Do you understand why I'm on cloud 209? Okay, I've got to get these entered into LibaryThing now.