These are in order of our studies:

Bible- Jesus, My Shepherd Lesson 9
Scripture: Jesus said, "I am the light of the world." John 8:12

Music- Themes to Remember, Bach's Toccata and Fugue in D Minor

French- numbers 0-20, alphabet, games and basic conversations
How are you?
I am fine.
Hello, I am (name).

Grammar- We worked on proper nouns in our grammar workbook. I have discovered that FLL alone is not working like I thought it was. Camille needs more hands-on practice.

Spelling- Camille did the lesson last week so we've had no spelling this week.

Math- Horizons 2, things have been much better this week shifting to facts copywork instead of drill. I look forward to teaching math next week.

History- We studied China this week in SOTW2's chapter 8. We've read library books and had fun.

Earth Science- It has been a lot of fun studying rocks this week, it could have lasted all month but Camille is ready to move onto earthquakes and volcanoes. We have an ongoing crystal growing experiment though, no pictures yet.

Now for the pictures....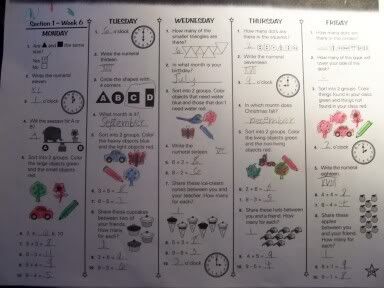 Daily Mental Math (above) Horizons 2 (below)