Let's start at the very beginning, a very good place to start. When you read you begin with A B C, when you sing you begin with Do Re Mi....

I have a song in my heart over this week's events. On one hand it has been a wonderful week homeschooling and on the other hand, I have learned a few things that have changed my mind about previous ideas I've had.

First, our daily routine. By Wednesday, I realized the daily routine was too rigid and unrealistic. So on Thursday (yesterday) I changed it and it worked beautifully! Here's our new Daily Routine.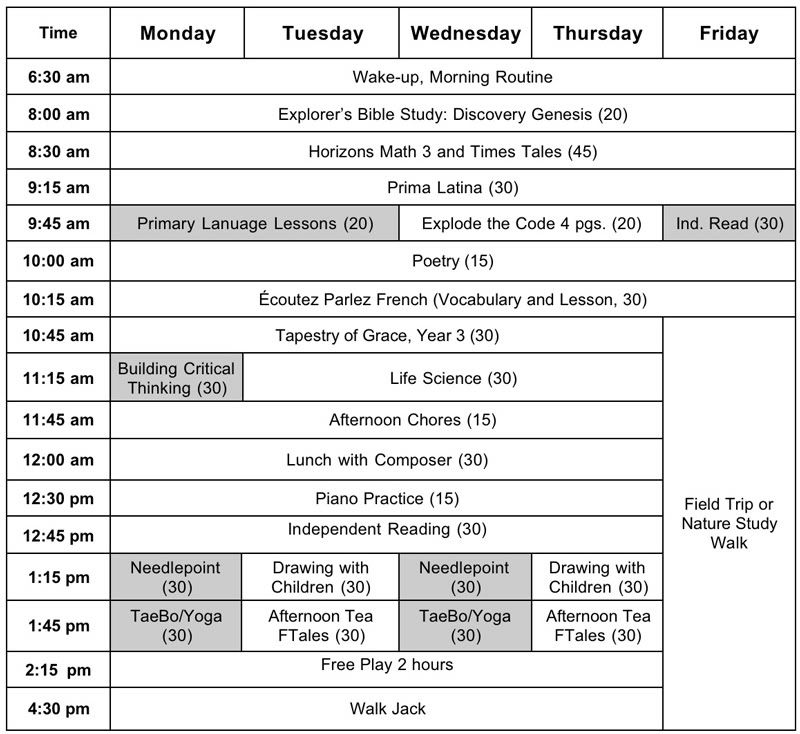 Secondly, I realized my mistake in thinking that doing preschool at home would keep Danny busy for a longer period than what it did. He is just not interested in sitting alongside Camille and doing his own school. I've had my FIL's offer of paying for preschool hanging over my head for awhile now and I believe this would be best for both Camille and Danny this year. As a family we toured a Montessori preschool this morning and Danny will start Monday. It is everything I cannot provide for him at home at this time and I cannot say how much this saddens me in one way but on the other hand I'm grateful to be able to provide Danny an environment where he can blossom.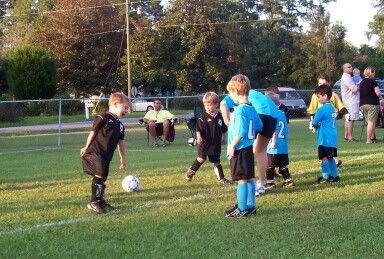 My dh joked last night at Danny's soccer game that we're turned into suburb parents, Danny's in soccer and will start Montessori preschool and Camille takes piano.
Now to recap each subject for the week.
Explorer's Bible Study, Discovery level- Genesis
Camille has graduated from Bible stories to Bible study and I'm very satisfied with Explorer's approach and content. This week was an introductory week to the chapter of Genesis as a whole, here is one day's work from this week.
Horizons Math 3
So far the lessons have been a review for Camille. Page pictured, I lifted the scanner lid while it was scanning, oops.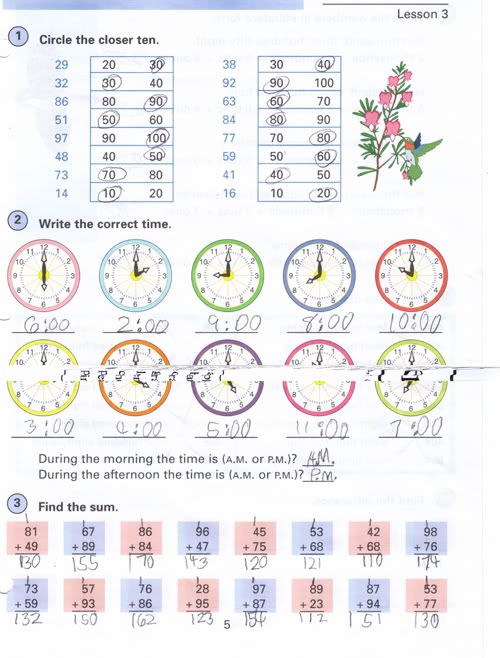 Prima Latina
We love Mrs. Leigh as our video teacher and so far we've done Lessons 1 and 2 with only the student book and DVD. I cannot believe how much fun we're having with this!
Primary Language Lessons
This week Camille has done her first dictation exercises and learned about commas. We read the comma book from our
Grammar Tales set
. This has gone very well.
Explode the Code, Book 7
Camille started this week on Book 7 and is doing very well. I have the Teacher's Guide and we go through the instructions before she starts her work.
Poetry Memorization
Camille is working on
Bird Talk
by Aileen Fisher. I have yet to discuss metaphor with her but will next week.
Tapestry of Grace, Year 3 Redesigned - Unit 1, Week 1
So much fun! This week has been wonderful in history, we started off by reviewing geography terms and Camille labeled the continents and oceans on a world map, then located the thirteen colonies on an United States Map. She read Geography A to Z to me aloud to review geography terms and we reviewed what latitude and longitude means as well as what the Prime Meridian is.
This week Camille read on her own for history-
William Carey: Bearer of Good News
and
My Napoleon
by C. Brighton.
We read
Napoleon, Little Corporal
,
Of Courage Undaunted Part I
and did two president cards- one for George Washington and one for John Adams. Camille loved using the Yo! Millard Fillmore book for the biography information but we did have to use Our Country's Presidents get the rest of the information we needed.
Since our literature read this week was
Rapunzel
, I used it for our afternoon tea party. The kids loved it! The next day, Camille and discussed what the characteristics of a fairy tale are. Here's a
link that was very helpful
with this and we
printed out the chart at this link
.
For history our project this week was to make and use a quill pen, here are pictures of the kids...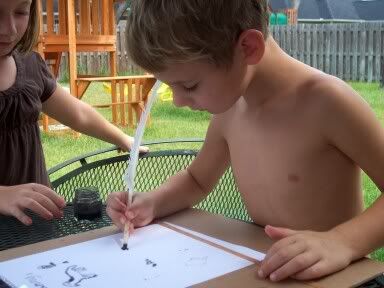 Building Critical Thinking Skills aka Informal Logic
Camille loves this and I wish I had gotten this for her in 2nd grade! I've given her 30 minutes on Monday to be able to focus on this but she has asked to do 2 more times this week- she has done a few pages on her own time. *Smile*
Life Science -

Head to Toe

by Jim Wiese, our own lessons
Another HIT! We've had so much fun this week, it doesn't even feel like 'school'. We made outlines of the kids' bodies and learned about the brain (images are from
My Body
by Teacher Created Resources). Camille read
The Brain What It Is, What It Does
independently and we did the experiments in Head to Toe. Here are pictures of the kids' outlines with their brains plus Camille's Brain Hat. Camille's outline is on the left, Danny's on the right.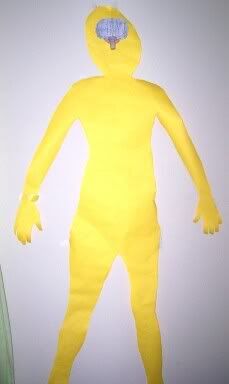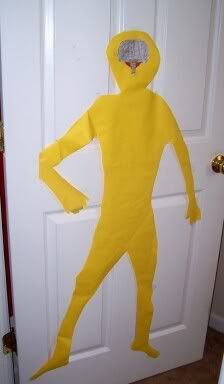 and now Camille's Brain Hat (from

Easy Make & Learn Projects, Human Body

by Donald Silver and Patricia Wynne)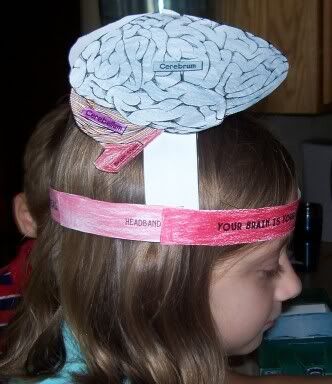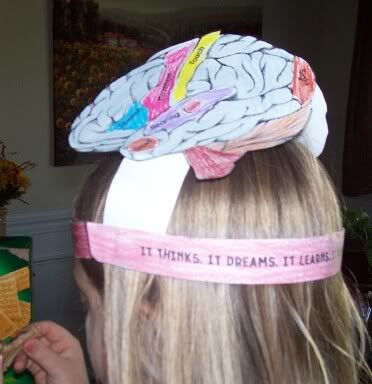 And this is where our day would fall apart, I kept forgetting to put the composer cd on while we ate lunch. Camille did her piano practice every day without fail and she's doing very well with her new piano teacher. What a blessing! I felt that Camille did so much independent reading in her subjects that we didn't need an independent reading time designated this week, and we haven't started our needlepoint (crafts), art or exercise time yet. We only had afternoon tea once this week.
I think all in all, it was a FABULOUS first week back but I really contribute that to the fact we've been doing light lessons for a while so we were ready for a full day again. Next week, Danny will be starting at the Montessori preschool so we will have an adjustment - it's never been quiet in our home, unless the kids are sleeping, lol!
Last but not least, a friend's daughter drew a picture of Danny and I just wanted to say Thank you Dylan, this is a WONDERFUL picture of Danny and he looks just like it! It looks like he's playing soccer!