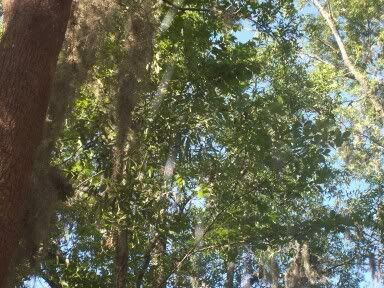 I promise there is a Horned Spider in this picture, but after taking 5 photos I could not get the camera to translate what I was seeing. So here's the background of where the horned spider has it's web. Lol.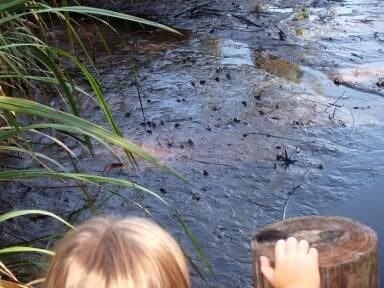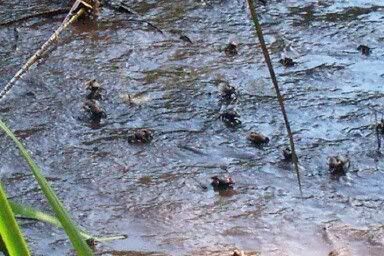 The trail we walked surrounds a wetland area, here we stopped to see the fiddler crabs, we'll see them many times during our walk today. We watched them for about 15 minutes here.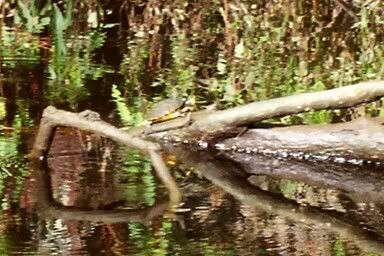 This poor turtle trying to bask in the sun! If we got too close to the edge of the bank, he'd (or she) would dive into the water. Jack (our dog) was tugging at his leash and Danny was too excited to see the turtle to keep quiet so taaa daaa, a blurry picture of Mr(s). Turtle. Camille observed that it has a yellow bottom and black dots on its legs.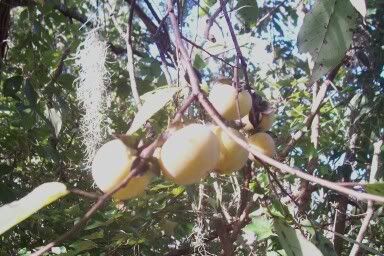 I saw this tree and I wonder what it is, whether or not the fruit is edible and safe for humans. My first thought was a crab apple tree but I'm not sure. We'll be looking this up (don't tell us).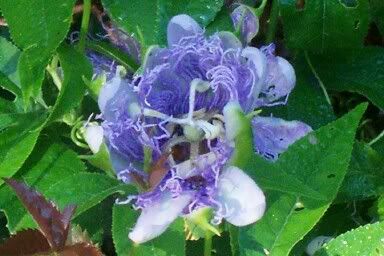 When dh, Danny and I walked this trail a couple of weeks ago, this flower was magnificent. This is the only trace I could find of it on the trail, a withered specimen of its former glory. A friend has said it is part of the passion flower group.
This is what the flower looked like when we saw it before, a picture I found on the web. Isn't it gorgeous? It was so unusual that dh and I looked at it for a long time.
On the trail there are exercises to do which the kids loved. Two seconds after this picture was taken, Danny fell and cried a little because it scared him. This picture is such a reminder of, "whatever my sister can do, I can do!" Lol.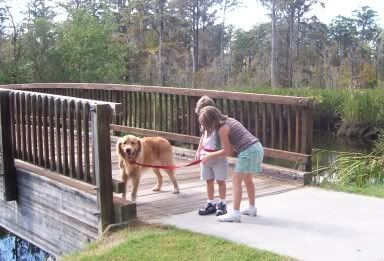 Here's Camille putting Jack's leash around Danny's waist. The leash is designed for this, Danny was excited to be able to have Jack's leash.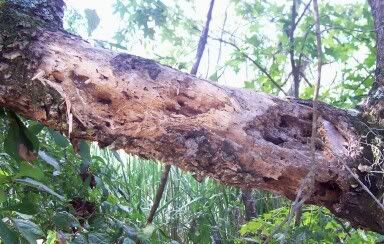 "Mom, look at this branch! Woodpeckers and other animals have been just eating away at it! What types of animals do you think would do this kind of damage? We can talk about it when we get home," Camille said in such a genuine way that although she was mimicking me, she truly meant that she wanted to find out more. Lol! Ah, eight years old...
Peterson First Guide to Insects
did not give us a lot of information about the short-horned grasshopper. That was last time we walked this area, this time the kids just wanted to watch him.