I don't have a clue what # week we're on, we started in July '07 and since then we've switched history programs which has increased our year significantly. This weekly report is about TOG's Year 2 Unit 1, Week 7 but before using TOG we were using SOTW so by SOTW's chapters we're in week 19-20. Lol. We do have 29 weeks still to go but again that is because we switched from using SOTW alone to using TOG, TOG covers more in TOG2 than SOTW2 does. Sigh. I guess I'll put the TOG week we're on even though our lesson have been ongoing much longer than where we are in TOG.


We were at my parents' house this week, taking care of my mom after her surgery which did affect our lessons. We didn't do Bible, Exercise or French while we were gone. Spelling Workout is being replaced with Explode the Code.
The week of Dec 31- Jan 4 we studied the High Middle Ages which includes the Crusades and St. Francis, in science we studied Deserts and in poetry, we memorized, "I Heard A Bird Sing". I only took two pictures because my camera batteries where running down and I have a lot to do here at home, now that we're finally back after being gone (Dec. 24-Jan 9th).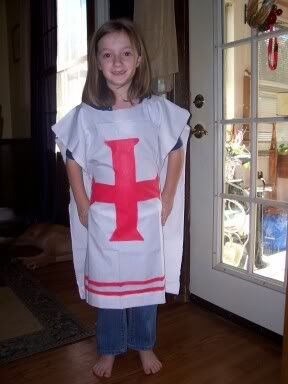 In history, we mapped out the first 3 Crusades, talked about how leaders grew more in worldly power and how the Crusades changed medieval society. Camille read
"Minstrel in the Tower"
aloud and
"The Crusades"
by Miriam Moses. Camille also created a Coat of Arms this week which she wanted the same design of her tunic above, so it's just a duplicate of the cross and lines. We continued reading about castles per Camille's interest. I read aloud,
"A Gift from St. Francis"
by Joanna Cole which was about how St. Francis gave us the gift of the Christmas manger scene.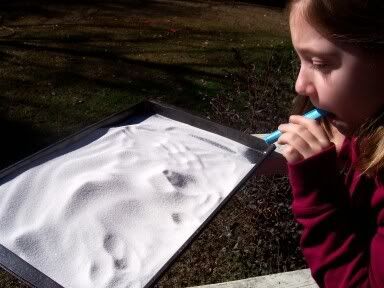 In science we learned about Deserts and this is a picture of our experiment to illustrate how sand dunes are made. We have eliminated reading living books in science outside of books we have at home to shorten our day and our dependency on our unreliable library system. If the library doesn't have the book in house, I'm no longer going to wait 8-10 weeks for a specific title to come in.
In poetry, Camille memorized "I Heard a Bird Sing" by Oliver Herford.
I heard a bird sing,
In the dark of December,
A magical thing,
And sweet to remember.
We are nearer to Spring,
Than we were in September,
I heard a bird sing,
In the dark of December.
We identified the end rhyming words: sing, thing, Spring, sing and December, remember, September, December. She memorized this poem in a week instead of the two weeks I expected it to take so we reviewed all of the poems we have previously memorized in addition to reciting "I Heard a Bird Sing" 3x daily.
It was a good week and very interesting for my mom to witness us in action. I'll post about Week 8 in the next couple of days as we finish our work. I have to go back to my post of "Put this note on my forehead" and figure out what I was thinking before Christmas hit. I know I have some work to do on my end like creating Memory CDs, not to mention taking down OUR Christmas tree and decorations. Can I have a vacation from my vacation? Lol.