Others have said to me that history shouldn't be the focus in 2nd grade and I've felt guilty for enjoying it so much. I've wondered if I'm doing Camille wrong by allowing history and science to driving forces in our lessons. I'm over it now. History will always drive our homeschool, there is nothing about this world that is not history and frankly I just don't understand when others say that history DOESN'T drive their homeschool.

Through our history lessons, Camille is reading, writing, being creative, critically thinking and gasp- having fun. Through science, we are doing math, reading and writing some more and alas- critically thinking and gasp, again- having fun! BUT that does not mean we're not doing the nuts and bolts of reading, writing and math. We are. Which is why I'm putting Spelling Workout to the side so we can start Explode the Code Book 5 on Monday. I've also lightened Camille's reading by giving her one book to read for as long as she needs to finish it (a chapter a day is working well) and I've downsized the amount I read to her or at least I'm telling myself that.

I didn't go into much detail for last week's weekly report but that was because I just got back home and I've had an overwhelming list of 'things to do' looming overhead. Don't get me wrong the list is still there, it has shortened a little but I've exhaled so I can really make a weekly report. Grin.

Bible: One lesson from Explorer's Bible Study at Youth group this week- discussed being fishers of men and New Year's Resolutions. Watched Raging Waters, a StoryKeeper DVD this week at home and discussed it.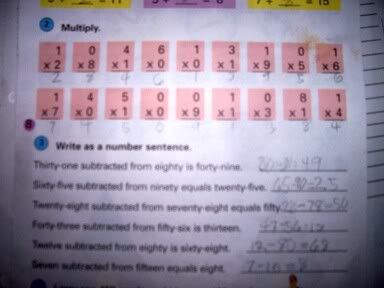 Math: Camille started multiplication this week and she LOVES it. She thinks it's so easy which has been a relief to me. Kudos to Horizons again for making my job easier. She's showing math fact mastery with her addition and subtraction, it's hard to believe I panicked over this just a few months ago!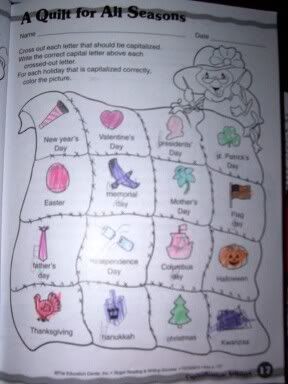 Grammar & Mechanics: The workbook approach is going well for us, Camille is eagerly doing her work and I feel at ease with the content as well as Camille's retention. Another plus is that it doesn't take long at all, just 10 minutes a day for 2 pages, I'm so proud of her!

Science: We were supposed to do Grasslands this week, but didn't. I might do it tomorrow after church because it really is a short lesson, if not- I'll add it to Rainforest this coming week. Maybe we can do a compare/contrast between the two.

Poetry: "I Heard a Bird Sing" by Oliver Herford is successfully memorized, next up is 'The Night" by Myra Cohn Livingston



Independent Reading: Last week Camille read "Minstrel in the Tower" and this week it is "Frog and Toad Together". She read Frog and Toad All Year Long in first grade but since seeing the play "A Year with Frog and Toad" she's interested in reading the book again. This is the visual learner in her coming out- she saw the play, enjoyed it so much that it translates in enjoying the book. I don't care- she's reading with INFLECTION and ease. I know it's an easy read for her but her confidence is booming and mama is beaming! She's so cute about it, she wrote a list of the chapter headers and she's crossing them off as she reads them- is she MY girl or what?!? Lol.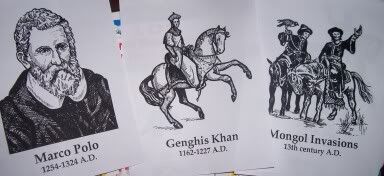 History: TOG2- Week 8: The Mongols, Marco Polo and the Far East
I'll give you the breakdown of the week so you can see how we're using TOG.

Monday- Samurai


Read SOTW 17.2 about Samurai
Read "How to be a Samurai Warrior" (finished the entire book)
Read "Step Into Ancient Japan" pg. 16-19
Copywork: Chanticleer & The Fox moral lesson
Read Aloud: The Door in the Wall
*We were so entranced by samurai, we just read and talked. I didn't require her to do anything other than the copywork, plus I didn't have a Samurai coloring page with me and we were at my parents' house with no printer.




Tuesday- Mongols & Genghis Khan


Read SOTW 21, p.211-216
SOTW mapwork
Define

Chanticleer & the Fox

vocabulary
Read

Chanticleer & the Fox


Read

Marco Polo Overland to China

about The Mongol Empire p.22-25
Completed SOTW Sequence of Events activity
Coloring page of Genghis Khan
Read-aloud: The Door in the Wall






Wednesday-Marco Polo


SOTW2, Chapter 22, p. 219-222
SOTW mapwork
Read Famous Men of the Middle Ages-Marco Polo
Read Aloud: The Door in the Wall



Thursday: day off b/c we just got home Wed. night
Wed.'s lessons were done before we left my parents house.
Read-Aloud: The Door in the Wall

Friday: Marco Polo
Read through Marco Polo Overland to China, smelled Ginger and Cloves
Glanced through Marco Polo: A Journey Through China to familiarize ourselves with the journey
Coloring page of Kublai Khan
Created cookie dough map of Japan
Locate all geography locations on map
Read-Aloud: The Door in the Wall


As a sidenote: I don't know if this is TOO big as a cookie dough map but it's our first and it was time consuming b/c Danny kept eating the M&M's off Japan, not to mention eating some of Japan itself! I tried so hard to get the outline of Japan right and by the time it burnt in the oven- I didn't have the gumption to try and label it with Camille. The mountains turned out nicely I think but I am considering just using clay from now on, possibly colored clay too. Lol.

So far my approach is using one topic a day and I think this is really helping us. I think Camille was getting bored with dragging out one SOTW chapter a week. It might change but we're enjoying it so far, I think she loves the mapwork everyday which is great because I do too. Before you think I'm nuts, The Door in the Wall is a bedtime reading, not during the day.
PS- Danny will be getting back to preschool as soon as I get control over our house again, including putting away Christmas decorations and re-organizing the kids' rooms to house their new Christmas gifts. He has been potty-training which I'll spare you the details but dh thought bribing him to potty was a good idea. I'm so NOT the briber, lol. I will be consistent with the training as long as Danny doesn't buck me completely. It would be nice to have him done before he's 4.