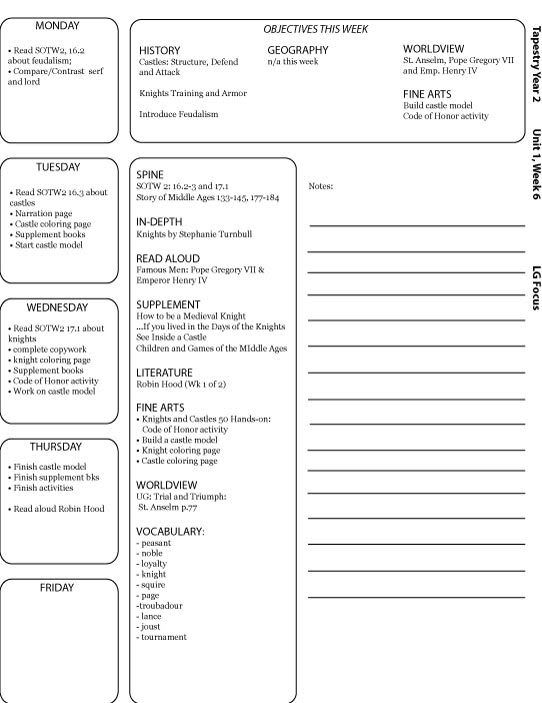 This is the planning/weekly overview page I created for myself using TOG. Is this needed? No, but it's me so this is what *I* do. I've decided to make one of these for each week, planning one unit at a time. We're having a ball this week and I can say that I'm enjoying this much more than just using SOTW, I think it's the teacher preparation part or maybe it's the long break we've taken. Whatever it is, I'm all geared up again, including getting ready for next year (third grade).

Monday we read SOTW2 about feudalism and focused only on that-we compared serfs and lords and what type of lives they led. We discussed how the feudal system works and watched United Streaming videos. Discussing fedualism first provided an excellent introduction to castles which we studied on Tuesday (yesterday).


We're making this castle model and hope to be finished with it today after we study about knights so we can PLAY! Both of the kids are loving this and with Saturday being our Christmas day here at home, it will be a perfect time for them to receive their Playmobil castle as a Christmas gift.

Camille is reading Stephanie Turnbull's book on Knights aloud, and our days are going very well. The only thing we've neglected is french. Sigh.

I'm enjoying The Story of the Middle Ages by Harding as well as Famous Men of the Middle Ages which is scheduled in TOG but I decided to keep this week light so I'm not reading them to Camille just yet. I'm still working out what we will do within TOG's framework, what topics I feel Camille is ready for and how to approach them. The Veritas Press history cards are providing great little summaries on the people we may not be meeting in-depth at this point.

All in all, I'm very happy with the switch to TOG, I think it is EXACTLY what I needed. Another thing different we've done is use Dover and Bellerophon coloring books instead of SOTW2's student pages, it seems to bring the topics alive more for my visual learner. ***If you want a blank version of the planner page, here's the PDF file.

Pictures I've promised....