It has been a busy week! Dh had surgery on Tuesday which added extra stress to the week and I didn't think this week would end. A lot of books came from the library that I've wanted to look at and I've received a few books through the mail, I have reviews I want to post so that will be coming up soon. I will also be posting more about our 5th-8th grade science plans as I have had a chance to see the resources.
Explorer's Bible Study Genesis:
This week we read in Genesis 6 and completed the work orally. Camille is getting better and better at finding the answers in the text and I'm feeling validated about not having her write the answers to the questions anymore.
Horizons Math 3
: Going well, she completed through lesson 35 this week, right on track. We have had some comprehension problems lately, maybe I was just impatient. I explain step-by-step and she went, huh? and I struggled to find a different way to present the information. So I repeat the step-by-step instructions, sometimes I think she's looking for me to provide the answers for her so she doesn't have to do the work. Like I said, this was a stressful week- we'll start fresh next week.
I do wonder in the back of my mind if there is a better program for us than Horizons, although when I looked at other programs nothing else clicks. Math-U-See tempts me a lot because of others' reviews and the success Camille is having with Prima Latina DVDs. She really enjoys having Mrs. Lowe as a co-teacher. My nagging feeling is that Horizons is moving too quickly, that she may need more time on one concept. My instincts are usually dead-on but my fear in this one is that I've bought Horizons sets 1, 2, and now 3 and if it isn't working out for Camille- I'll have to start buying a new math program. Writing it out, it seems silly but I'm also very convicted not to switch programs unless there's a problem and I'm not convinced there's an actual problem yet.
Prima Latina:
This week we learned about nouns. Confession: the prayers are not going well for us- I think the problem is that there's too much new words in the prayer to memorize and pronounce. From lessons 1-4 it was The Sanctus and in lesson 6 it's The Doxology which we know very well in English but the Latin? Glori Patri is about the only thing that is manageable. Lol.
Otherwise Camille is doing very well in Latin, she's memorized her vocabulary and doing well with the practical Latin. We've dropped French completely, I decided to wait until after Latin studies are done to pursue another language. This was a weight taken off my shoulders, now I have to decide what to do with all our French books, especially the elementary level ones.
Primary Language Lessons:
Camille is blossoming and enjoying the writing assignments in PLL, this week she wrote a story about a robin coming back in the spring to build a nest and two letters between friends regarding dog-sitting. She struggles with putting her thoughts in order before she writes, she wants to write and then organize her thoughts, she has not made the connection of being able to orally narrate a story and write it the same on paper-as she writes, she changes it. I've made no changes to what she wrote.
A Robin's Story
A robin is going to go and get some food and also make a nest of twigs for it and pine straw. The robin is going to lay some eggs in seven weeks. After the eggs are hached the robin is going to get some food.
I was not sure what to do, to correct her to leave it alone and allow her to grow in this area as she practices. I decided this week to leave it alone. She was supposed to write the story from the robin's point of view and PLL even gave her a prompt to use but she chose not to use it. This is hard! Do you force a child to follow directions or allow them to be creative and go with the flow? We'll be using Writing Tales 1 next, we're Lesson 121 of 164 of PLL.
Explode the Code 7:
Completed Lesson 7 this week

Camille's Poetry Notebook


Poetry:
Foreign Lands
by Robert Louis Stevenson is almost completely memorized! Camille needs to work on the last stanza and she will be done. A homeschooling friend's son is memorizing it alongside Camille although he already has it done. The kids are going to video themselves and share them with each other. Camille is thrilled to be doing this with J! We will move on to
Windy Nights
after reviewing ALL of our previously memorized poems.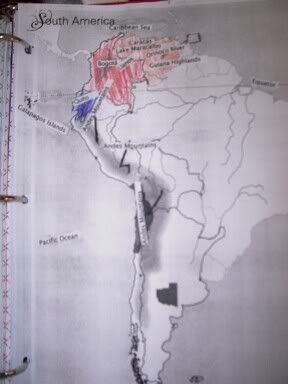 Tapestry of Grace, Redesigned Year 3:
This week has been a doozy. I found my enthusiasm again, South America is a refreshing change from U.S. History! We are still reading
Once On This Island
, which we are enjoying very much. Camille did wonderful map work this week on Ecuador, Venezuela and Columbia, colored their flags and we watched
Wild South America
from Netflix, we loved it. We did not get to
Adoniram Judson
, Camille is still reading
Johnny Appleseed
by Will Moses. We'll read
Adoniram Judson
next week and finish
Johnny Appleseed
before reading
Ox-Cart Man
.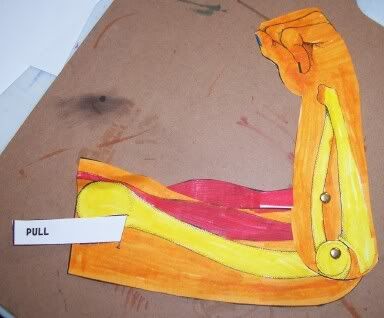 from Easy Make & Learn Projects: Human Body by Donald Silver and Patricia Wynne


Life Science: Head to Toe Science
We learned about the muscular system this week and Camille wrote some vocabulary words and enjoyed it. Guess who now has weekly science vocabulary to accomplish? I went ahead and made vocabulary worksheets for her so that she doesn't have to write the word and the definition, as we study each day she'll write the definition of the vocabulary we covered. In reality it isn't much in a day but in one week she'll be defining up to 20 words. We'll see how it goes. My public school trained brain thinks she
should
be doing this while my CM side isn't quite comfortable with it yet. Here's her muscle project from this week.
Extras:
Afternoon Tea & Fairy Tale: skipped, Camille was reading Johnny Appleseed so I let this slip this week.
Draw Squad: very cool, we love it.
Needlepoint: We ran out of white yarn from the little kit, very frustrating.
Composer biography:
I, Vivaldi
came in this week so we'll read it next week.
Piano Lessons: Camille has started working on Christmas songs.
Field Trip: none this week due to Halloween
Independent Reading:
Camille is reading The End of the Beginning by Avi and loving it.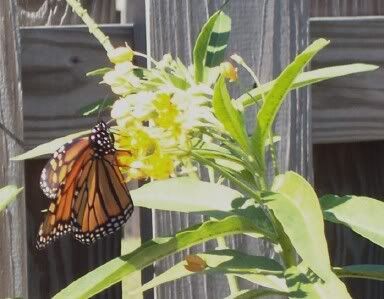 I know it seems like we've done a lot even with the stress of dh's surgery -he had bone spurs removed and a few of his cervical vertebrate fused together and Halloween this week with it's extra activities like carving a pumpkin, I just have a hard time letting go of stuff that we could have done.
Too many times this week, I felt rushed to finish and I really dislike that feeling.
Nature Study
Oh, before I forget- for nature study this week, we observed Red-Tailed Hawks from our backyard, a few different types of butterflies (thanks to the blooming milkweed plant) and I've been keeping an eye on the mantisflies.
Danny, 20 minutes after finishing Trick or Treating. Yes, the lollipop is stuck to his forehead. Lol.