Last year when we had trouble in math, it was suggested to make a math lab for Camille- to provide a fun place to do math. We were living in our other house so I was able to do that in a corner. This concept has worked for Camille, she says math is her favorite subject. In our new home, we do not have a math lab.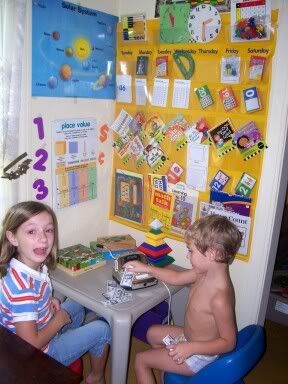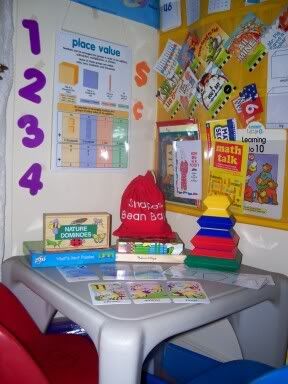 Here's a friend's
math lab
that inspired me (and many others). We like Horizons Math- I've been saying that for a while and yet what I like about Horizons Math is that it is a colorful workbook curriculum with a teacher's guide. It is not too busy with graphics and it has a spiral approach so Camille keeps reviewing the same concepts over and over again.
I became a little restless last year, hence the math lab, I didn't feel like Horizons was hitting the mark with Camille. Now again, this year I feel the same. The only thing preventing me from switching last year is that I could not find a program that I felt comfortable with, I looked extensively as BJU Math, RightStart, Math U See and other programs that receive very positive reviews. Of course after reading
Real Learning
by Elizabeth Foss- living math was what I wanted to do but didn't feel the confidence or know-how to accomplish it.
So we stuck with Horizons and I patted myself on the back for staying the course. I think we tried a few different things to help, eventually deciding to cut Camille's work- if she completed the first 1/2 correctly she doesn't have to do the second 1/2. I've used the Teacher's Manual fully, lightly, as a resource and still, I'm not satisfied.
I bought manipulatives, games and then realized we I didn't want to spend so much time on math, the lessons themselves were taking 30 minutes to 1 hour and playing with manipulatives & games just made the time longer. It seems silly not to WANT to take more time for math, something so crucial but I had it ingrained in my head that it shouldn't take 2-3 hours a day, that was an indication of failure.
Now, in 3rd grade- I'm faced with the realization that Camille may not understand much of what I've taught her over the last three years, just enough to accomplish the work but not to apply anywhere else. Yesterday I had her "play" a math game online, easy addition...she scored 25%. What?!? She's in 3rd grade!
She has
adapted
to Horizons, she does not internalize what she is learning- she just applies her short-term memory to the task in front of her. That is why I've had to reteach the same concepts over and over again. She also is a complete pencil to paper student, unable to do much mental math. I'm unable to teach her how to do mental math because I'm not sure HOW. I've read a few mental math books and I get confused! Lol.
Now for the complete honesty of why I chose Horizons in the first place:
1. It is self-contained, bought in a set complete with teacher's manual.
2. It is cheaper than other programs.
3. It seems rigorous, covering what public school students are covering in the same grade level plus the 1/2 the concepts of the next grade level.
4. Others who use it are homeschoolers I respect and their success (of older students going through the program) was encouraging. Standardized test scores have been wonderful.
Now I realize that:
1. Self-contained is nice but not as important as how the information is presented and learned.
2. Cheaper is nice but not if it is not effective.
3. Rigorous, great but what use is that if your child is not learning the material?
4. Other homeschoolers teach differently, know how to teach math and provide the instruction outside of the teacher's manual. Camille's standardized test scores are not as important to me as what she
is
learning, anyone can learn to pass the test.
All this and she SAYS math is her favorite subject. Oh boy. Now again, faced with the instinct that she needs something different, I started looking around again- keeping my eyes and ears peeled for reviews of other math programs. In a Charlotte Mason yahoo group I participate in (I mostly read others' messages), the question was posed about living math and
Math on the Level
was mentioned by its author Carlita.
I think I love it, it is so different from what we're doing now and would provide ME the help I need to understand math in order to teach our children. The pace is determined by the kids, not by a scope and sequence of what a publisher thinks the children should be learning.
Math on the Level
has resonated with me although I'm still not 100% sure. I've looked at all the other living math curricula that others mention and none of the others make me feel like, "I can do this."
Singapore, Math U See and a few others confuse me, I'll admit. I'm not a math person. I grabbed my copy of
100 Top Picks for Homeschool Curriculum
by Cathy Duffy (invaluable book, I've been using it since the beginning and still use it when I have trouble) and I'm also looking into
Moving With Math
.
We will continue using Horizons until I figure this out. I have many books coming from the library to help me.
1. About Teaching Mathematics a K-8 Resource by Marilyn Burns
2. Teach Your Child Math: Making it Fun for Both of You by Arthur Benjamin
3. Family Math by Jean Kerr Stenmark
and from BookMooch.com (online book trading)
1. Mathematical Reasoning for Elementary Teachers (a textbook on how to teach math)
2. A Collection of Math Lessons from Grades 3-6 by Marilyn Burns
It is my hope with this post to have identified the exact reasons why I'm contemplating a switch in math programs, I am not looking just for the sake of wanting something new. Of course, if I find a different solution, I will post about it but for now- the research continues.