We spent July 4th at Fort McAllister State Park, exploring Civil War times and the remnants of Fort McAllister. Here is Camille eating watermelon, goofy girl.

This historical embattlement was visited by Robert E. Lee and was the site of numerous unsucessful attempts by the Union Navy to pass it's guns in an attempt to access the Ogeechee river in order to lay destruction to the railway upstream, the plantations that were feeding the Confederate armies, and the CSS Nashville which was trapped by the Union blockade around Savannah. It fell to the hands of Sherman's ground troops during his infamous march to the sea on his way to Savannah from Atlanta.
To see a virtual tour of the park,
click here
.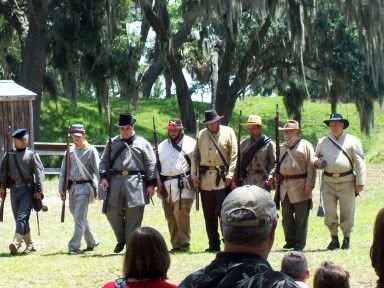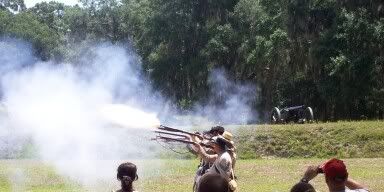 We arrived just in time to hear the cannon firing and see the musket firing demonstration. We learned about the components of the uniform and why the men wore wool instead of cotton. Wool in 90°+ heat, I was sweating in cotton! Poor men.
We explored Fort McAllister and went into a few bunkers, one contained a row of bunk beds for the soldiers with a small eating area, another contained artillery. Actually the one pictured contained the artillery.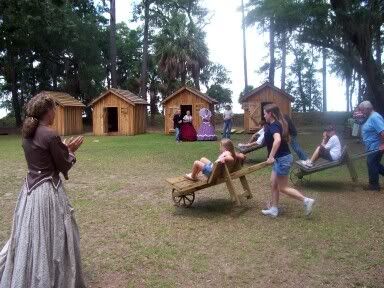 This is a picture of the wheelbarrow race that was a part of the fun that day.