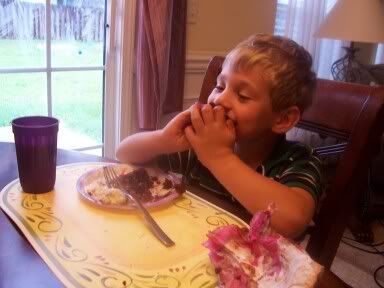 The cake took me 3 hours to make. It's Hershey's Perfect Chocolate Cake and that part turned out great. It was the frosting that took me so long. I made three batches of frosting.
I tried to make a 3 layer cake but I accidently flipped one of the layers the wrong way and it eventually crumbled after I frosted it. It literally cracked and slid off. Lol. I removed that layer and put the last layer on. I sort of saved the cake, it still didn't look quite as neat as it could but it has two types of frostings. Plain chocolate on the outside and a mocha frosting inside, very yummy. I wish I had strawberry or raspberry sauce to put on it. Lol.
For the first time Camille had her Dad and all of us (dh, Danny and me) together for her birthday in the same place.
Danny is pictured stuffing his face with both hands full of cake while his fork lays on the plate.
Ah, the joy of having a boy.