We went on an adventure today, I thought it was just going to be a nature walk. We went to a nearby State Park, went to their museum and climbed an ancient burial mound. At the burial mound, the kids went ahead of me up the stairs and I'm terrified of heights. I went up trying to go as quickly as possible because I realized the kids would be up there without me if I didn't. I ended up having vertigo and a small panic attack as I hit the middle of the stairs.
We got up there, took pictures and I panicked again when Danny kept wanting to go to the edge and look down. Thankfully, other people were there and someone carried Danny down the steps with Camille following. Holding on to both rails, I climbed down too, grateful to the strangers.
I then decided to walk one of the trails. I had seen the maps at the park store but didn't think we needed one. Ha, ha, ha. We followed a trail for a long time, probably 45 minutes only to come to a sign that said, "State Park Boundary Ends". Camille was aching, ready to go to the car and I was a little scared but knew that we could just back-track. It was 5:00 pm. So we turned around and back-tracked following the same trail that led us to the Boundary sign.
We had a great time although I had to remind Camille that it was better to be lost in the woods with Mommy than at home bored. I made the video in an attempt to lighten the mood but Camille was not enthused. When we finally emerged from the woods and headed to the car, Camille said it was a "fun day". I see this as a sign of times to come.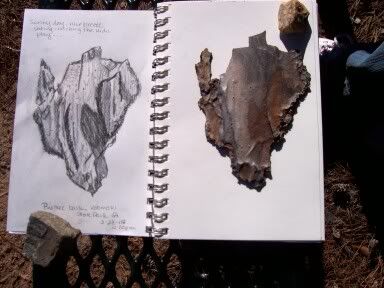 My Nature Journal entry of a piece of Pine Tree bark while the kids played at a playground at the beginning of our excursion.
Walking to the burial mounds, noticing the beautiful view and Spanish Moss dripping from the winter trees.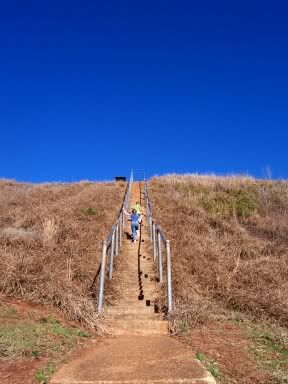 The kids way ahead of me on the largest mound's stairs. They're going up like it's no big deal. This is the moment I realize they will reach the top unsupervised. It's only 56 feet straight up, that's all. After two days of downpour, there was not a cloud in the sky.
The view from the top of the largest mound. There's a smaller mound in the distance on the right.
This is the closest I would get to the edge.
Pictures from the walking trail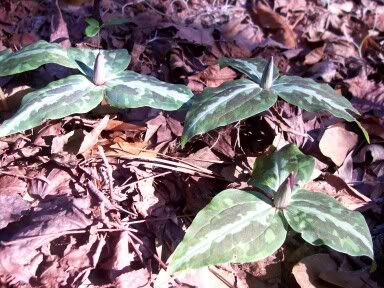 This is Trillium, I'm still working on identifying the actual scientific name of these with purple flowers and variegated leaves. I found these below a tree and took two pictures so I could identify them at home.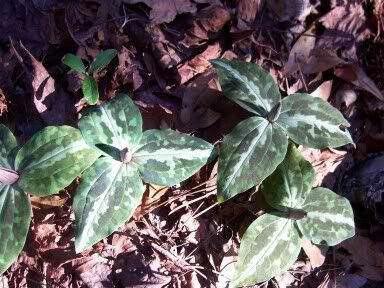 This last picture of the mysterious plant/flower (trillium), I found in another location on the trail. It seems to have opened.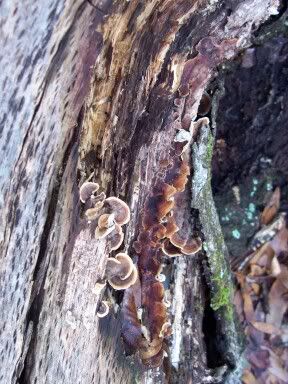 I told Camille to be on the lookout for interesting things. She picked tree fungi and rocks. We will identify these later and I'll update this post.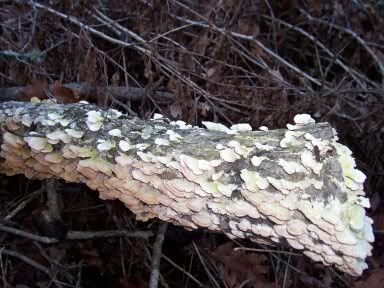 I suspect this is Tyromyces Stipticus-Bitter Bracket but I may be wrong, trying to identify with DK's The Mushroom Book.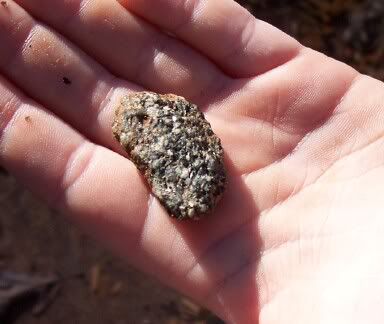 We are not at the point to be able to identify these at this time. Camille is recording them in her nature journal like this:
Date:__________________
Place found: __________________
Time: ___________________
Color: __________________
Shape: _________________
Characteristics: _______________
Obviously, if she's going to be drawn to rocks I need to look into providing a better guide for her. I'm waiting on this to see where her interest goes.
Danny was having a ball and he felt so big being able to wear the binoculars. He's standing on bridge on the trail.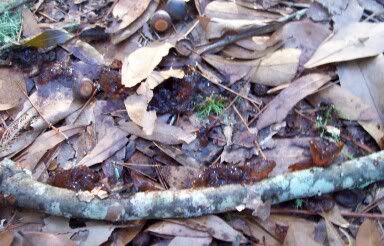 This is what I saw on our walk back, what is that?!? This is Tree Sap Resin, when a tree is diseased or an insect attacks it, the sap is the tree's way of defending itself. A little too late since this branch was on the ground.
This tree sap resin would harden and become Amber, although sources say that in order for it to be hard it has to fossilize. I had a chance to have beautiful jewelry! Lol.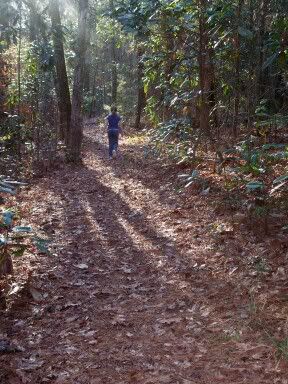 This is the perfect "The End" photo. This is Camille stomping off ahead, mad at me for getting us lost in the woods. Did I say it was beautiful? I think she was more mad that I was laughing about the situation instead of actually being in the woods without a map that I "could have gotten" from the park office. She reminded me of that fact at least 3 times.